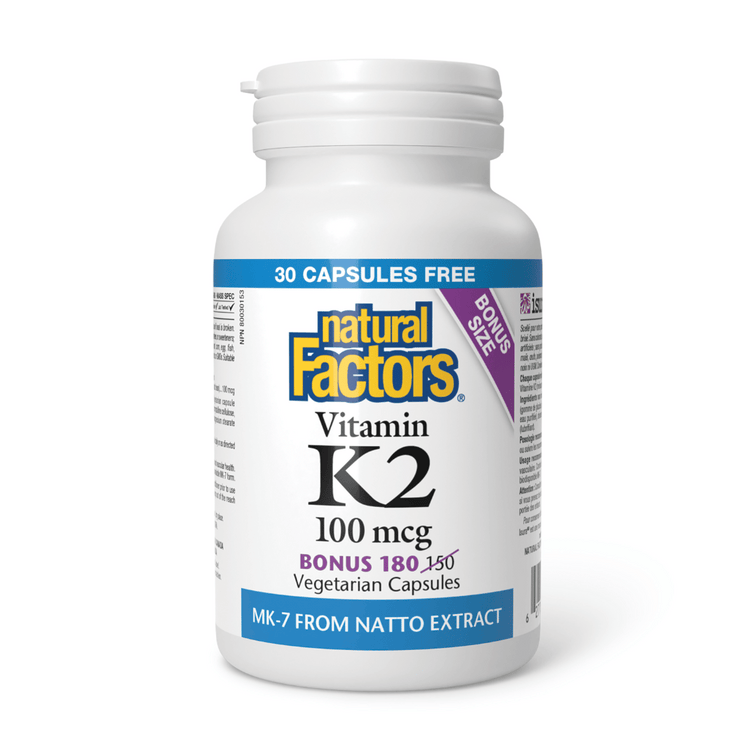 Natural Factors Vitamin K2 100mcg BONUS (180 VCaps)
---
Your Source for Quality Products
Proudly Canadian
Great Prices Everyday
---
Helps in the normal development and maintenance of bones and teeth
Helps guide calcium into bones
Inhibits the calcification of arteries and other soft tissues
Provides double-action support for bone and vascular health
Ideal to use alongside calcium and vitamin D supplementation
Natural Factors Vitamin K2 is a type of vitamin that comes in a form called menaquinone-7 (MK-7). This particular form of vitamin K is important for various functions in our bodies, including protecting the heart and promoting strong bones. One of its main jobs is to help direct calcium to the right places in our bodies. It guides calcium to places like our bones, where it is needed, and keeps it away from places like our arteries, where it can cause problems. What's special about MK-7 is that it provides protection for a whole day with just one dose. Other types of vitamin K2, like MK-4, only last for a few hours in the body and require larger amounts to be effective.
Ingredients:

Each vegetarian capsule contains:
Vitamin K2 (menaquinone) (MK-7) (natto bean)
100 mcg
Non-medicinal ingredients:
Microcrystalline cellulose, vegetarian capsule (carbohydrate gum [cellulose], purified water), vegetable grade magnesium stearate (lubricant).

Recommended adult dose: 
1 capsule daily or as directed by a health care practitioner.