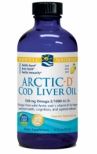 Nordic Naturals Arctic-D Cod Liver Oil - Lemon (237ml)
---
Your Source for Quality Products
Proudly Canadian
Great Prices Everyday
---
QuantityOnly 0 left in stock!
Nordic Naturals Arctic-D Cod Liver Oil liquid is a source of omega-3 fatty acids and vitamin D, important factors in the maintenance of good health. Arctic-D Cod Liver Oil liquid helps to support cognitive health, and brain function. Vitamin D also helps to maintain helathy bones and teeth, and can aid in the sbsorption and us of calcium and phosphorus.
DOSAGE:
Take one teaspoon daily, with food, or as directed by your health care professional.
INGREDIENTS:
Cod Liver Oil (from Arctic Cod,) Vitamin D, Natural Lemon Flavour, Vitamin E, Rosemary extract, Olive Oil.
DIETARY NEEDS:
Dairy Free, Gluten Free