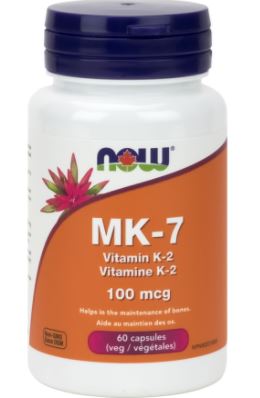 Now MK-7 Vitamin K-2 (60 VCaps)
---
Your Source for Quality Products
Proudly Canadian
Great Prices Everyday
---
Vitamin K is well known for its role in the synthesis of a number of blood coagulation factors. During recent years however, Vitamin K2 and its dependent proteins have been found to play a central role in whole-body calcium metabolism. These Vitamin K2-dependent proteins are now known to be essential for normal bone mineralization, as well as for other critical functions unrelated to coagulation. NOW MK-7 contains a highly biologically active form of Vitamin K2 derived from non-GMO natto, a traditional Japanese fermented soyfood.
INGREDIENTS:
Vitamin K2 (Menaquinone 7) 100 mcg
Non-Medicinal Ingredients:
Rice Flour, Veg Capsule (hypromellose, water), Ascorbyl Palmitate and Silica.
Dosage:
Take 1 capsule daily with a meal.
CAUTIONS:
Consult a health care practitioner prior to use if you are taking blood thinners. Do not use if you are pregnant or breastfeeding.