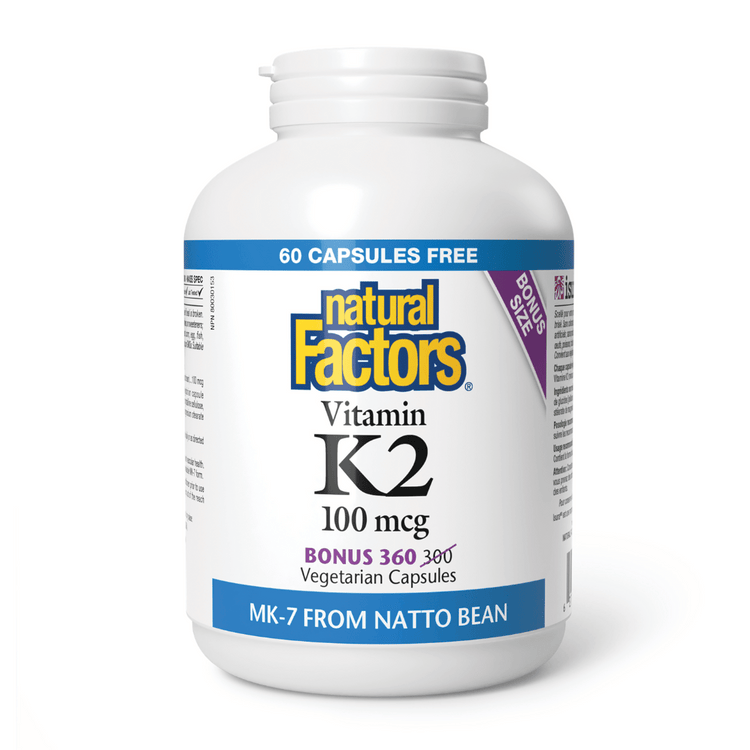 Natural Factors Vitamin K2 100mcg BONUS (360 VCaps)
---
Your Source for Quality Products
Proudly Canadian
Great Prices Everyday
---
Helps in the normal development and maintenance of bones and teeth
Helps guide calcium into bones
Inhibits the calcification of arteries and other soft tissues
Provides double-action support for bone and vascular health
Ideal to use alongside calcium and vitamin D supplementation
Natural Factors Vitamin K2 contains MK-7, the most bioavailable form of vitamin K derived naturally from natto beans. Each dose provides 24-hour protection by guiding calcium toward the bones and teeth where it is needed most, and away from the arteries where it causes damage.
DOSAGE
1 capsule daily or as directed by a health care practitioner.
Medicinal Ingredients
Each capsule contains:
Vitamin K2 (Menaquinone-7)
(MK-7) (natto bean)...................................100 mcg
Non-Medicinal Ingredients
Microcrystalline Cellulose, Vegetarian Capsule (Carbohydrate Gum [Cellulose], Purified Water), Vegetable Grade Magnesium Stearate (Lubricant).