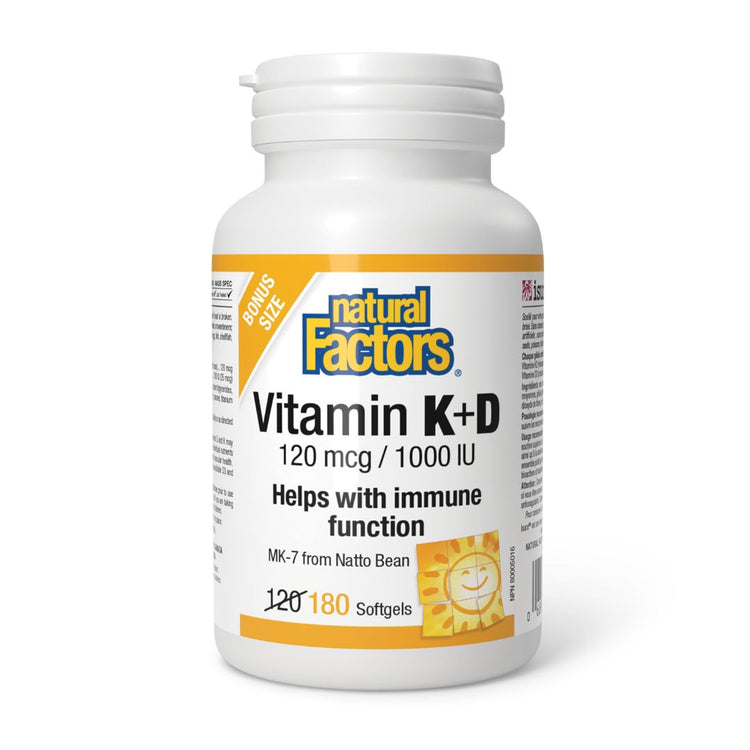 Natural Factors Vitamin K & D BONUS (180 SGels)
---
Your Source for Quality Products
Proudly Canadian
Great Prices Everyday
---
Helps in the normal development and maintenance of bones and teeth
Increases calcium absorption and helps guide calcium into bones
Helps build strong bones and teeth
Inhibits the calcification of arteries and other soft tissues
Supports healthy immune system function
Provides double-action support for bone and vascular health
Ideal to use alongside calcium supplementation
Vitamin K + D from Natural Factors provides two major fat-soluble vitamins for bone and vascular health: bioactive and highly bioavailable vitamin D3 (cholecalciferol), and vitamin K2 (menaquinone-7 [MK-7]) from natto beans. Both vitamins act on calcium and guide the mineral toward where it is needed throughout the body.
Ingredients: 
Each softgel contains:
Vitamin K2 (menaquinone) (MK-7) (natto bean) 120 mcg
Vitamin D3 (cholecalciferol) (lanolin) 1000 IU (25 mcg)
Non-medicinal ingredients: 
Medium chain triglycerides, softgel (gelatin, glycerin, purified water, caramel, titanium dioxide), yellow beeswax, lecithin.