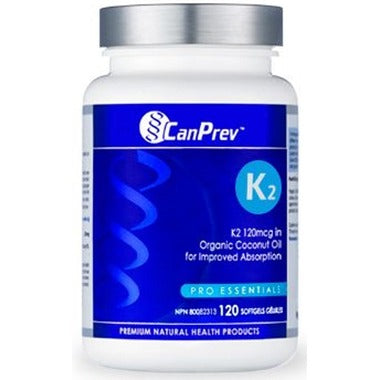 CanPrev K2 120mcg (120sgels)
---
Your Source for Quality Products
Proudly Canadian
Great Prices Everyday
---
Vitamin K2 is a fat soluble vitamin essential for normal blood clotting and bone metabolism. There are three different forms of vitamin K: K1 (phytoquinone), K2 (menaquinone),
which can be made by natural bacteria in the intestines, and K3 (menadione), a synthetic version of vitamin K.
Clinical research has demonstrated significant protection of bone strength with the K2 form of
vitamin K
.
Menaquinone-7 (MK-7) is an effective activator of osteocalcin, the protein essential for calcium deposition in bone.
It works synergistically with vitamin D3 to help influence mineral strength in bones and teeth. 
INGREDIENTS:
Active Ingredients:
Each softgel contains
Vitamin K2 (menaquinone-7, K2VITAL®)     120 mcg
Non-Active Ingredients:
Organic virgin coconut oil (yielding 65-75% medium chain triglycerides), bovine gelatin, glycerin, purified water. 
DOSAGE: 
Adults - Take one softgel per day with food as directed by a healthcare practitioner.