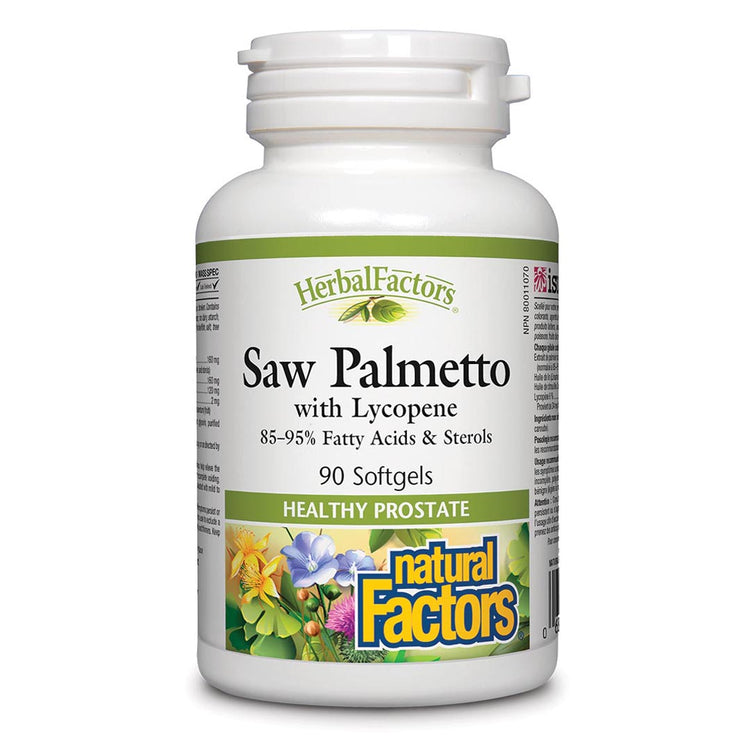 Natural Factors Saw Palmetto Extract with Lycopene (160mg) (90 SoftGels)
---
Your Source for Quality Products
Proudly Canadian
Great Prices Everyday
---
Saw palmetto berries contain compounds that naturally support hormone metabolism. The fat-soluble extract is most helpful for symptoms of an enlarged prostate (BPH or benign prostatic hyperplasia) and has also been used to treat prostatitis and urinary tract infections.
Nearly every man over the age of 45 has some enlargement of the prostate gland, the small male sex gland that encircles the urethra. Enlargement and inflammation of the prostate can hinder urine flow and affect sexual function. BPH (benign prostatic hyperplasia) results in frequent nighttime urination, pain, burning and difficulty with urination. The berries of the saw palmetto plant help to relieve the urologic symptoms associated with benign prostatic hyperplasia.
DOSAGE:
1 softgel 2 times daily or as directed by a health care practitioner.
Medicinal Ingredients:
Each softgel contains:
 
Saw palmetto extract (Serenoa repens) (fruit)
160 mg
(Standardized to 85–95% free fatty acids, esters and sterols)
Flaxseed oil (Linum usitatissimum)
160 mg
Pumpkin seed oil (Cucurbita pepo) (seed)
120 mg
Lycopene 6%
2 mg
From 34 mg tomato extract (Lycopersicon esculentum) (fruit)
Non-Medicinal Ingredients: 
Softgel (Gelatin, Glycerin, Purified Water, Carob).