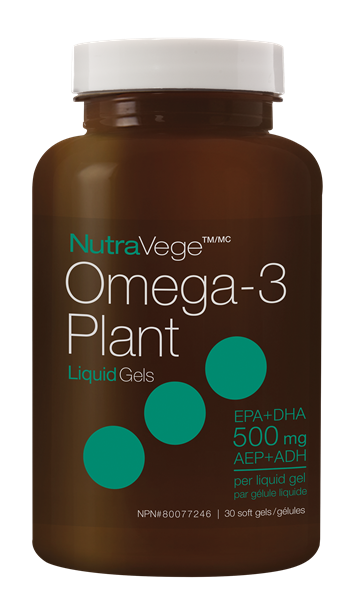 Nature's Way NutraVege Omega - 3 Liquid Gels (30 Soft Gels)
---
Your Source for Quality Products
Proudly Canadian
Great Prices Everyday
---
500 mg of EPA + DHA per liquid gel
INGREDIENTS:
MEDICINAL INGREDIENTS

Algal oil (Schizochytrium spp.)

1.03 g

TOTAL EPA + DHA

500 mg

EPA

150 mg

DHA

300 mg
NON-MEDICINAL INGREDIENTS
sunflower oil, natural flavour, tocopherols (from non GMO soy), rosemary extract, green tea extract, ascorbyl palmitate.
Soft gel ingredients: modified corn starch (non-GMO), vegetable glycerin, carrageenan, sorbitol (non-GMO), and purified water.
DOSAGE:
Adults and adolescents 14 years and older take 1 soft gel daily.