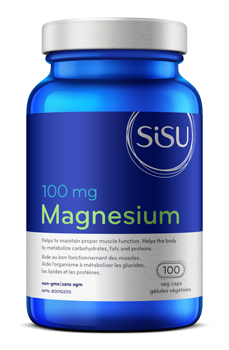 Sisu Magnesium Malate (100mg) (100 VCaps)
---
Your Source for Quality Products
Proudly Canadian
Great Prices Everyday
---
SISU Magnesium Malate 100MG is the second most abundant mineral inside the body's cells and is essential for hundreds of cellular reactions and the health of every organ.
Magnesium deficiency is difficult to diagnose and it is not associated with any symptoms at first but inadequate magnesium reserves may contribute to many conditions including cardiovascular disease, diabetes, muscle pain and weakness, migraines, and headaches. Supplemental magnesium has been recommended by health professionals for decades as it plays a crucial role in our physiology, allowing the body (including the cardiovascular system) to function properly.
INGREDIENTS:
Each vegetarian capsule contains:
Medicinal ingredients:Magnesium...100 mg
(magnesium malate)

Non-medicinal ingredients:
Microcrystalline Cellulose, Magnesium Stearate (vegetable), Silicon Dioxide.
DOSAGE: 
Take 2-3 capsules daily or as directed by a health care practitioner.