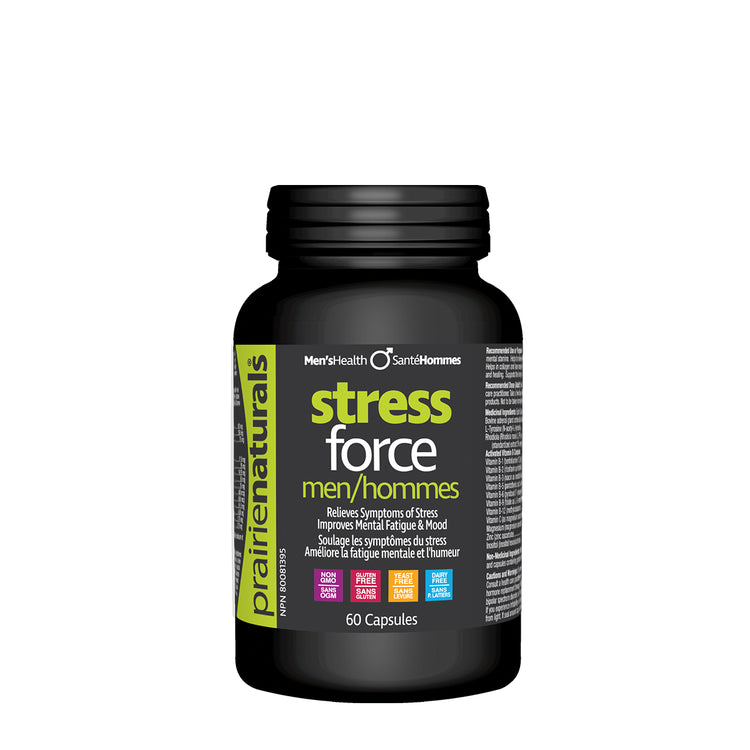 Prairie Naturals Stress Force for Men (60 Caps)
---
Your Source for Quality Products
Proudly Canadian
Great Prices Everyday
---
Stress-Force for Men supports healthy adrenal function to provide relief from symptoms of mental and physical stress.

Did you know stress prevents men from producing optimal amounts of testosterone? Men show the signs of stress in many ways including low energy, mild to severe depression, weight gain especially around the mid-section, depressed immune response, or muscle loss. These symptoms are all related to hormonal imbalance. Stress causes an increase in cortisol which reduces testosterone production and in fact effects the entire endocrine (hormone) system.
Helps support cognitive function and mental stamina
Improves energy and reduces feelings of fatigue and weakness
Supports recovery and healing
Supports healthy immune function
Medicinal Ingredients:
Each Capsule contains:
Bovine adrenal gland cortex (bos taurus) 100 mg
L-Tyrosine (N-acetyl-L-tyrosine) 250 mg
Rhodiola (Rhodiola rosea L.) PE root (standardized extract 3% rosavins, 1% salidroside) 0.75 mg
Activated Vitamin B Complex
Vitamin B-1 (benfotiamine 12.9mg, thiamine HCl 5mg) 17.9 mg
Vitamin B-2 (riboflavin as riboflavin 5'-phosphate) 25 mg
Vitamin B-3 (niacin as inositol hexanicotinate) 19.25 mg
Vitamin B-5 (pantothenic acid as calcium-d-pantothenate) 50 mg
Vitamin B-6 (pyridoxal 5'-phosphate, P5P) 25 mg
Vitamin B-9 (folate as L-5-methyltetrahydrofolate, MTHF-5) 400 mcg
Vitamin B-12 (methylcobalamin) 500 mcg
Vitamin C (as magnesium ascorbate, zinc ascorbate) 81.5 mg
Magnesium (magnesium ascorbate) 4.88 mg
Zinc (zinc ascorbate) 3.75 mg
Inositol (inositol hexanicotinate) 5.75 mg

Non-Medicinal Ingredients:
Magnesium stearate, microcrystalline cellulose, silicon dioxide and capsules containing gelatin and purified water.

Cautions & Warnings:
If symptoms persist or worsen, consult a health care practitioner. Consult a health care practitioner prior to use if you are taking antidepressant medication, hormone replacement therapy (HRT), or if you have kidney stones. If you have bipolar disorder or bipolar spectrum disorder, or if you are taking antibiotics or nitroglycerin do not use this product. If you experience irritability or insomnia, discontinue use. Store in airtight container, away from light. If seal around cap is broken or missing, do not use.