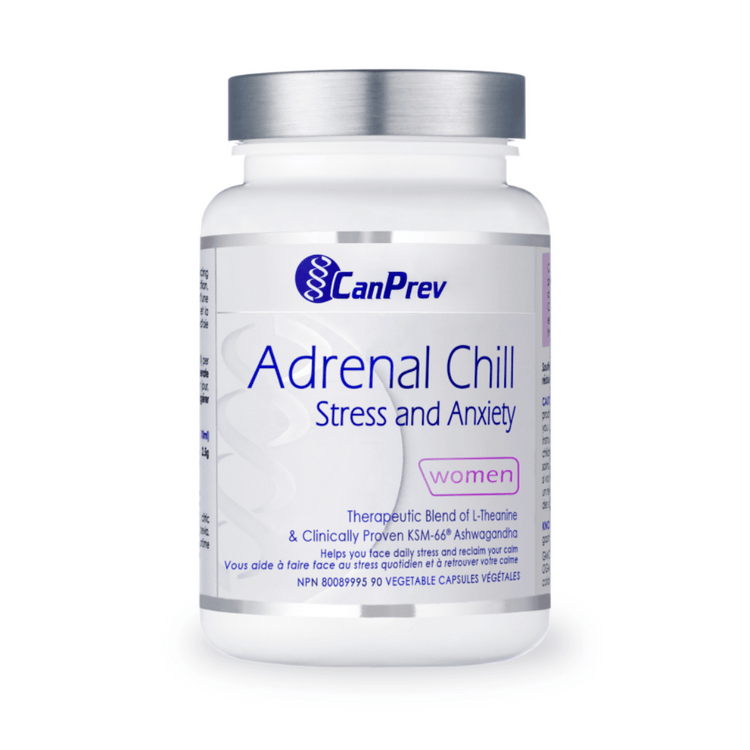 CanPrev Adrenal Chill - Women (90 VCaps)
---
Your Source for Quality Products
Proudly Canadian
Great Prices Everyday
---
Have you ever experienced increased stress levels and felt powerless to do anything? If you're experiencing this struggle, you're not alone. It can be exhausting. Luckily, we have a great solution for you: CanPrev Adrenal Chill for Women.
This nutritional supplement is specifically formulated to help manage stress and promote calmness, helping your body cope with tension.
Product Background
CanPrev Adrenal Chill for Women is a product of CanPrev, a trusted brand recognized for its dedication to designing high-quality, effective natural health products. The brand's team of naturopathic doctors meticulously crafts every product with the latest scientific research in mind. Adrenal Chill is no exception. Its formula aims to promote a healthy stress response, all thanks to its unique blend of specially chosen herbs and nutrients.
Key Benefits
CanPrev Adrenal Chill for Women is packed with health benefits. Here's what it can do for you:
Promote Stress Resistance:

It is designed to support your body's ability to withstand daily stress's physical and mental demands.

Enhance Mood:

It contributes to enhancing mood and overall emotional well-being.

Support Healthy Adrenal Function:

It nourishes and supports the health of your adrenal glands, your body's 'stress-management centers.'

Aid Relaxation:

It aids in relaxation and helps promote better sleep.
The active ingredients that make these benefits possible include:
Ashwagandha:

Known for its potent adaptogenic properties, it can help your body resist stressors.

L-Theanine:

Aids in promoting relaxation without causing drowsiness.

Rhodiola:

Offers notable anti-fatigue effects and supports cognitive functions.

Relora:

A proprietary blend that helps manage symptoms associated with stress.
What makes CanPrev Adrenal Chill for Women unique is its carefully curated formula of natural ingredients known for their stress-reducing properties, combined in the optimal proportions for maximum efficacy.
Ingredients
Each capsule
KSM-66® (ashwagandha extract, Withania somnifera) root, 12:1, 5% withanolides* 300mg
L-Theanine 100mg
*KSM-66 is a registered trademark of Ixoreal Biomed Inc.
Non-Medicinal Ingredients
Vegetable-grade magnesium stearate, microcrystalline cellulose, vegetable capsule.
Directions for Use
To ensure optimal results, it is advisable to take one capsule twice a day. Whether with or without food, as a healthcare practitioner advises. Before using this dietary supplement, it's important to consult with your healthcare professional. Please note that this product is unsuitable for pregnant or nursing mothers, children under 18, or individuals with known medical conditions.