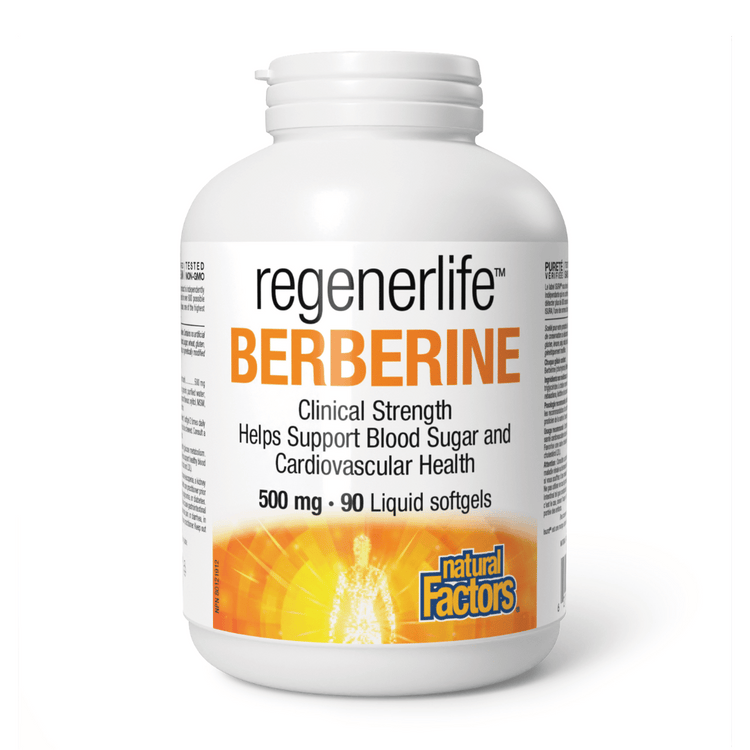 Natural Factors regenerlife Berberine (90 Sgels)
---
Your Source for Quality Products
Proudly Canadian
Great Prices Everyday
---
Regenerlife Berberine provides a clinically effective dose of berberine to support healthy glucose metabolism and cardiovascular health in adults. Berberine is a naturally occurring alkaloid found in barberry and other medicinal plants. It has been used for thousands of years in traditional Chinese medicine and Ayurveda. Research now shows that berberine contributes to longevity by supporting blood sugar, cholesterol, and cardiovascular health.
By targeting key metabolic pathways, berberine has been shown to activate adenosine monophosphate-activated protein kinase (AMPK), an enzyme often referred to as the "metabolic master switch." AMPK regulates how energy is made and used in the body. Through this enzyme, berberine addresses metabolic concerns commonly faced by adults as they age, such as maintaining healthy glucose, triglyceride, total cholesterol, and LDL cholesterol levels.
Berberine is part of the Regenerlife healthy-aging line of supplements formulated for whole-body rejuvenation and longevity. It provides 500 mg of berberine in each easy-to-swallow softgel. Taking just two softgels per day provides the same concentration used successfully in clinical trials to support healthy blood sugar and lipid metabolism. This clinical-strength berberine supplement contains no preservatives, dairy, gluten, or GMOs.
Medicinal Ingredients: 

Each softgel contains:
Berberine (hydrochloride) (Berberis vulgaris) (root bark)
500 mg
Non-medicinal ingredients:
Softgel (gelatin, glycerin, purified water, carob powder), medium chain triglycerides, bergamot flavour, xylitol, MSM, Stevia rebaudiana leaf, non-GMO sunflower lecithin.